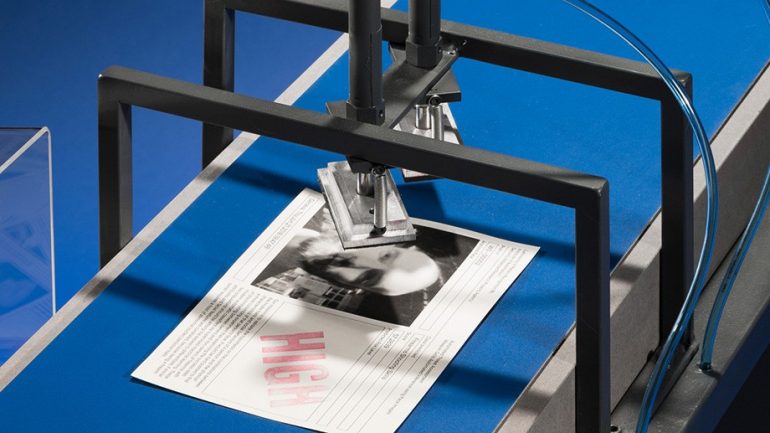 Photo: Marta Revuelta, AI Facial Profiling, Levels of Paranoia ©HEAD – Genève, Baptiste Coulon
Félicien Goguey is a media artist and interaction designer who lives and works in Geneva, Switzerland. He uses multiple skills to create interactive installations, live performances, applications and connected objects. He explores the creative potential of programming languages and new technologies with a preference for open-source tools.
His main interests lie in communication networks and their imperceptibility, more precisely in the factors responsible for their imperceptibility and the invisible mechanisms that a user encounters, as well as their political and social consequences. His work involves design methods that question or develop strategies to tackle these issues. Among other subjects, his research tackles mass surveillance conducted within the Internet and mobile phone networks by governmental entities (intelligence services, police, army) and the relations between monitored spaces and their users. He holds a PhD from École Polytechnique Fédérale de Lausanne (EPFL) in the "Architecture and Sciences of the City" doctoral program, for which he developed a practice-based research focused on one specific object: the IMSI catcher, a monitoring device that intercepts mobile phones identity and data by mimicking the activity of a cell tower.
His work and lectures have been presented in international museums and events such as Centre d'Art Contemporain (Geneva), Kunsthaus Langenthal, Power Station of Art (Shanghai), Espace Multimédia Gantner (Bourogne), HeK (Basel), Musée d'ethnographie de Genève, NeMe Arts Center (Limassol), Musée des Arts et Métiers (Paris), Die Digitale (Düsseldorf), Cyfest (Saint Petersburg), Mirage Festival (Lyon), Inversia Festival (Murmansk), Resonate (Belgrade), Mapping Festival (Geneva), Vector Festival (Toronto), Lift Conference (Geneva), International Conference for Computational Creativity (Ljubljana), Crypto Design Challenge (Amsterdam).
He received the Bourse de la Ville de Genève 2016, Lissignol-Chevalier et Galland, applied arts category and the Pax Art Awards 2019 for Swiss Media Arts.
Contact: input [at] felicien [dot] io – [PGP public key]
Publications: